Eclisse pocket doors are a great way to make the most of your space.
But why is this important?
SPACE COSTS MONEY: The space in your property can range from around £1,000 to £11,000 per square metre depending on where you live, so it is well worth make use of every square metre of it. By using pocket doors instead of traditional hinged doors, you can gain up to 8 square metres of more usable space in a 100 square metre layout.
What can I do with this space?
USE IT

: Where the arc of the hinged door used to take up space you might want to push a bookshelf against the wall or a dresser, or add a display cabinet, hang a piece of art, move the furniture further towards the edges of the room to create a feeling of more space. Build a book shelf or display shelves around the opening of the door (both sides!).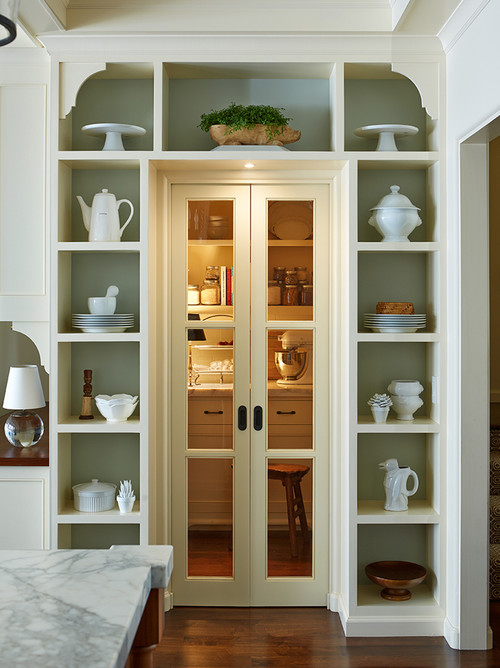 Use the space either side of the passageway (in both rooms!)
Double Pocket Doors are flanked by bookshelves in this example
APPRECIATE IT!

– By changing to pocket doors you will make the room layout feel more spacious. You may not want to fill that space but instead appreciate the feeling of extra space.
The layout on the left has double hinged doors separating the two rooms. The space in the sitting room area is more constrained and cramped than in the layout on the right that has pocket doors separating the two.
Space needs to be flexible
It is not always on option to move when you feel constrained by the layout of your property. Your requirements for the space can change as you start a family or as your family grows. It can even change based on the time of day or time of year!
For example open plan space is great for:
Multi-tasking - for example, watching the children play while cooking.

Entertaining – perhaps chatting and socialising with guests while cooking

Letting the sunshine in on a bright summer's day.
But …
When the children have gone to bed, its much nicer to close the doors on the play area and relax in an 'adult' space.

On a cold winter's day, it is great to snuggle up in front of the fire in a cosy, rather than cavernous, room.

At the end of a meal, it is so much nicer to relax and socialise with the doors to the kitchen area closed and the mound of pots and pans at least temporarily hidden.
Customer Case Study – Flexible Space With Double Glass Pocket Doors.
Open up the space for entertaining and close it off after the meal
At Eclisse we have a range of double and telescopic pocket doors systems that make perfect room dividers. For example, a bespoke double telescopic system (4 door panels) can deliver a passage size of just over 4.6m wide by 2.6m high.
Make your space work harder, make it multi-functional
Multi-functional space can be different things at different times when required.
For example, with clever use of a furniture (such as a fold away or Murphy bed) and an Eclisse double or telescopic pocket door, an area of the living space could be divided off as a guest room when required.

Pocket doors open up to reveal a work station for a home office, and be closed gain when the work for the day is done.

If you don't have a separate utility room, pocket doors can hide a washing machine, dryer and washing baskets etc at one end of your kitchen. When you've finished the washing simply close the door and hide them away.
Customer Case Study – Multi-functional Space
Here wooden pocket doors with glass panels hide a mini-utility area with washing machine one side and dryer the other.
An awkward corner has been transformed into a built-in daybed. T
he pocket door separates it from the rest of the living room
if
required.
Save space and money– use a pocket door to improve a room layout
The en-suite bathroom is a perfect example that illustrates how a glass pocket door can save space, improve a room layout and save money.
By installing a glass pocket door in your en-suite you can:
Make the space feel bigger without moving the walls
Make the space brighter without adding a sky-light
Add more sanitary ware in the space available
And you can also install a bathroom lock with your glass pocket door too.
Making the most of the usable space
Want to find out more?
We have a lot of information on our website about our products and how to install them, but if you have any questions please contact our friendly and knowledgeable Customer Service Team on 0333 5770828.